It's incredible how fast kids can move
It's typical for the American teenager to be called upon to watch the young kids of others. Most of the time it goes just fine. However, there are things that can happen that someone can never plan for. Maybe it's time for parents to ask older people with more life experience to watch their kids because these former babysitters couldn't handle these kids when they were younger.

Don't Open the Closet
I had just started babysitting, had just taken a whole babysitting course at a local hospital, and after putting up some fliers, I got my first gig. It was at a house in my neighborhood (about a five-minute walk from my house). They had an older girl and a young toddler-ish age boy.
Their mom was giving me a the rundown of their routine and giving me a little tour of their house. We went into her son's bedroom, and she said something to the effect of "hmm that's odd, why is his window open…," quickly shut the window, and seemed somewhat distracted from that point on.
She hurried through the rest of the tour and then told me to go hang out with the kids while she finished getting ready. About two minutes later she hurries in, sort of hustles us out the door and outside. I'm pretty confused at this point, but being an awkwardly shy middle school-aged girl I just go along with it.
Once we get to the driveway, she pulls me aside and tells me that she went back to her bedroom after noticing the window was open and saw most of her jewelry was missing. Soon after telling me this, about 10 cop cars come flying in, cops run out with guns drawn , the whole works.
Cops tell me to leave, so I head home, pretty terrified. Turns out the burglar (who had broken in the night before) was still hiding in the son's closet, right next to where we were standing when the mom realized the window was open and something was off. (ste11ablue)
Seizing
I get two elementary school age kids ready for school in the morning so their parents can leave for work. I came in one morning and the mom was on the floor, having what I later found out was a seizure. The dad had already left, and she wasn't responding to me.
While I was on the phone with 911, I could hear the TV in the next room, and figured the other kid was still sleeping. She started to come out of it and got up to continue making her lunch for work. I could hardly convince her to sit and I was scared she'd fall and I wouldn't be able to catch her.
I sent the TV-watching kid upstairs with the dog just before the paramedics arrived. I'm on the phone with the dad, neighbors are texting me if everything's alright, the paramedics are asking me questions.
They take her to the hospital, and I talk to the kids and get them ready for school. They were totally okay – really, they missed the whole thing. The school bus came, and I cried the whole way home! (adognamedpancake)
Tough Journey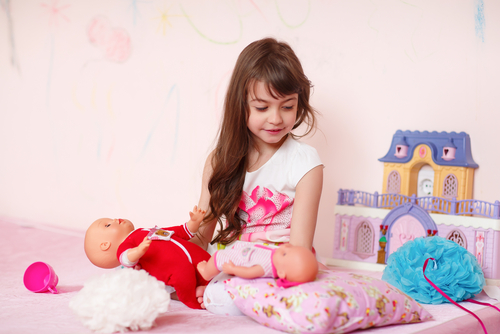 I was babysitting my niece a couple of years ago. I put her to bed, read her a story, gave her a cuddle, then went down to watch a movie and ended up falling asleep on the couch in the living room.
I don't know how much later it was, but I woke up to something grabbing my ankle. My eyes shot open, I freaked out, and I shook my leg as hard as I could. Bad idea. She'd managed to unfasten her door, climb over two different baby gates, and get down the stairs without doing herself an injury, all to ask me if I could read her another story.
We don't tell her mother about the time I almost dropkicked her daughter across the living room. (Portarossa)